1.5 is only way to save coral reefs, and Pope says "we have no such right" to deprive them of life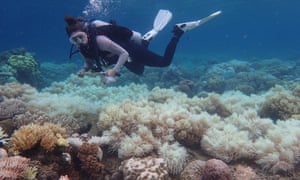 Greater emissions reductions and delivering on the Paris climate agreement are now "the only opportunity" to save coral reefs the world over from decline, with local responses no longer sufficient, a report by Unesco has found.
The first global scientific assessment of the impacts of climate change on the 29 world heritage-listed coral reefs, published on Saturday, found that the frequency, intensity and duration of heat-stress events had worsened with increasing global warming, with massive consequences for the 29 world heritage sites.
Analysis of recent studies and newly-developed data from the US national ocean and atmospheric administration (NOAA) coral-reef watch showed that 13 of the 29 listed reefs had been exposed to levels of heat stress that cause coral bleaching, on average more than twice per decade from 1985 to 2013.
Bleaching had occurred more frequently in recent years than in decades prior, with coral mortality during the third global bleaching event from mid-2014 to mid-2017 "among the worst ever recorded". Twenty-one listed sites had suffered severe and/or repeated heat stress in the last three years.
Compounding the devastating impact of bleaching – which can take coral communities at least 15 to 25 years to recover from – were more frequent and more severe extreme weather events, increasing ocean acidification, and pollution.
The Great Barrier Reef, "one of the world's most iconic coral reef systems" and among four of the total 29 listed located in Australia, had been "seriously affected" by back-to-back severe bleaching events this year and last, despite considerable investment in efforts to build resilience.
Professor Terry Hughes, director of the Australian Research Council centre of excellence for coral reef studies in Townsville, provided an analysis of bleaching records for the report. "It basically makes the point that everywhere is bleaching," he said. "It's certainly not a phenomenon only on the Great Barrier Reef."
Australia's scientific community had appealed to the UN world heritage committee to list the Great Barrier Reef as "in danger" last year. Hughes said this was "not on the current agenda", as the committee awaited the Great Barrier Reef Marine Park Authority's third outlook report due in 2019.
The Unesco report found that local efforts to increase reefs' resilience "remain necessary but are no longer sufficient" without complementary national and international efforts to limit the temperature increase to 1.5C above pre-industrial levels – the most ambitious target set by the Paris agreement, and understood to be the maximum possible to secure coral reefs' long-term survival.
"We need all of the above," said Jon Day, a former director with the Great Barrier marine park authority, now at James Cook University. "We can't just assume local responses are enough, and they must be augmented by global's efforts too."
He said while the world heritage convention aimed to "transmit the world heritage values" of listed sites for future generations, a natural system would inevitably change with time. "The question is what is acceptable change, and the reported levels of coral bleaching and coral mortality can hardly be considered by anyone to be acceptable."
Reducing emissions so that they peak around 2040 and then decline would reduce that number of affected sites to 14 (48%), and allow an extra 12 years, on average, for them to recover.
Hughes said the prospects of coral reefs' long-term survival was at a crossroads, with the worst-case scenario able to be avoided only "if we quickly adopt the 1.5C target".
"1.5C or 2C degrees won't be a particularly comfortable place for reefs – they will still see quite regular bleaching and they will be different to how they were 15 or 20 years ago – but they will be able to survive."
He said he was optimistic about reefs' prospects, given that the business-as-usual path was looking "increasingly unlikely" as cities and states the world over moved to exceed federal or commonwealth commitments to curbing emissions.
A draft decision prepared by Unesco, to be addressed by the world heritage committee at its meeting in Krakow in Poland from 2 to 12 July, had stated the report's findings were of "utmost concern".
But Day said it was "very disappointing" that the draft decision only committed to further studies at this stage: "How much evidence do they need?"
The fight against global warming is one of humanity's great moral movements, alongside the abolition of slavery, the defeat of apartheid, votes for women and gay rights, according to the former US vice-president and climate campaigner, Al Gore.
The battle to halt climate change can be won, he said, because the green revolution delivering clean energy is both bigger than the industrial revolution and happening faster than the digital revolution.
Gore has played a major global role in raising awareness of the dangers of climate change since his 2007 film An Inconvenient Truth and made his comments, among his most outspoken to date, in a recent speech in London.
"The climate movement should be seen in the context of the great moral causes that have transformed and improved the outlook for humanity," he told the Ashden green energy awards ceremony. "It was wrong to allow slavery to continue, it was wrong to deny women the right to vote, it was wrong to discriminate on the basis of skin colour or who you fell in love with.
"When the central issue was thus framed in stark relief because of who we are as human beings, the outcome became foreordained," Gore said. "We chose what was right, and now in this case it is clearly wrong to destroy the prospects of living prosperously and sustainably on a clean earth when we bequeath it to our children. It is wrong to use the sky as an open sewer, it is wrong to condemn future generations to a lifetime haunted by continual declines in their standard of living, and give them a world of political disruption and all the chaos that the scientists have warned us about."
Gore acknowledged there was opposition to strong action on climate change, but cited the US civil rights movement as an inspiration: "During some of the bleakest days of the civil rights movement, Dr Martin Luther King Junior was asked by one of his fellow advocates how long is this going to take and he famously answered, not long because no lie can live for ever."
The former vice president's latest documentary on the threat to the planet, which opened the Sundance festival, is desultory and surprisingly vainglorious
Gore, whose new film An Inconvenient Sequel: Truth to Power is released this summer, said while the moral argument meant humanity would confront climate change, the rapid growth of the low-carbon economy meant it could be successful.
"There is now in our world a sustainability revolution and it's best understood, in my view, by placing it in the context of other great global transformations – the agricultural revolution, the industrial revolution, the digital revolution," he said. "This sustainability revolution has the breadth and magnitude of the industrial revolution but it has the speed of the digital revolution.
"Instead of beginning in a corner of the UK in a world of 1.5bn people, and then slowly spreading to western Europe and North America, this sustainability revolution is being jump started in rich and poor countries alike in every corner of this world of 7.4 billion people," he said, likening it to the rapid spread of mobile phones around the world.
Gore is not the first climate campaigner to make a moral argument for acting on global warming. In 2014, Archbishop Desmond Tutu, one of the most revered figures of South Africa's anti-apartheid struggle, called for action against fossil fuel interests.
"During the anti-apartheid struggle, using boycotts, divestment and sanctions, we were not only able to apply economic pressure on the unjust state, but also serious moral pressure. People of conscience need to break their ties with corporations financing the injustice of climate change," he wrote in the Guardian.
Gore told his London audience he was optimistic of success, despite the recent US withdrawal from the global Paris climate accord: "No one person can stop the climate movement or the sustainability revolution – we are going to win no matter what President Donald Trump tries to do."