Jose Aguto of the Catholic Climate Covenant: "We need for a climate Marshall plan of enormous scale, a miracle of love and unselfishness"
Jose Aguto, formerly of National Congress for American Indian, and FNL, now with the Catholic Climate Covenant,  https://youtu.be/qjfCHmicINo.  The Catholic Climate Covenant is part of the GCCM Steering Committee.  The notes below are from Jose's presentation to the Citizens' Climate Lobby in the US in December 2017
Starting with the broad picture, what is known in the climate community is that for us to envision a vibrant future and avoid catastrophe we need a climate Marshall plan of enormous scale and we need a miracle of love and unselfishness.  And we know the humankind has evolved in many ways but what we haven't applied collectively is our moral and spiritual values, the golden rule applied across humanity collectively.  What we need to embrace more than any other generation has done before.  The faith communities already have a moral
Reconciliation, redemption, love and forgiveness, love of enemy or thy friend in waiting.  In order to build bridges, recognizing the political divide is vast.  Many Americans affiliate with their politics more than their faith.  We all need to embrace our core moral values and issue forward from that.
March 2017 moved to Catholic Climate Covenant, Jose Aguto is a practicing Catholic, wants to help the Catholic church more fully embrace Laudato Si'.  The Catholic church is nearly 2000 years old, rich in complexity and diversity.  Within the US there are 75 million Catholics, greater than the next 7 largest US faith traditions combined. 16.5 million Catholics go to church weekly. 255 active bishops, 36 archbishops, 144 diocesan bishops/leaders of dioceses, from 4 million in LA to 40K in Steubenville OH. USCCB determines policy writ large for
Catholic Relief Services, Catholic Charities, USCCB, each serves millions if not billions across the world.
With regard to Catholic attitudes on climate change, they largely reflect the American population.  Catholics are slightly more favorable to climate change, but have Paul Ryan on one side and Nancy Pelosi on the other, across all "Six Americas" of Yale study.
We were hoping LS would be moral moment, move the needle for climate action, but it has created a warmth, a structure and a depth, seeing percolation in theology and practice
Cardinal or Archbishop Gregory of Atlanta has created an LS program for his diocese.  LS conferences in Toledo OH and Burlington VT, 150-200 people in each event.
FCL began an interfaith Moral Call to Action with evangelicals, Quakers, Catholics, Jewish people, call to action to Congress to recognize climate science and to action.  Joseph and Constant Mandel Catholic, Nancy Smith Quaker, Ray Sanderson Pres, Pamela Lapis UCC, and persuaded convinced Chris Gibson, Gibson resolution.
Grassroots, grasstops, peer lobbying effort
CCC seeing increases in membership and engagement related to CC.
Work with 17 national partners, USCCB, Catholic Charities, CRS to guide policy and
Weave the green thread into the fabric of Catholic life, from the diversity of opinions related
300 creation care teams across the country
Pastors training program, educate pastors on climate science and support homiletics as well as greening practices in parishes and schools.
Catholic Energies program, plug and play opportunity for greening Catholic facilities, to step into energy efficiency programs.  CatholicEnergies.org
Policy – follow USCCB policy which is fairly broad, Climate Solutions Caucus, vitality of mainstream Catholic voices on climate change, 80 Catholic universities, orders, NGOs.  Lift up greater and more ambitious climate action.
Important for US to honor Paris Agreement commitments
LS – strengthened
Moral, nonpartisan call
Responses to questions:
How can I work better with Catholics in my area.  The Catholic church is hierarchical.  You can kind of look like the USCCB as Congress.  We work with a lot of bishops who are not comfortable talking about climate change as well as those who are stepping forward more affirmatively.  We have to address each bishop where he is and there is deference given to local bishops and pastors regarding what they want to address.  They all have an incredible array of obligations, duties and priorities and it is up to them to choose among those.
Meet them where they are.  Start where you find a willing Catholic. It could be a lay person.  It could be the Catholic Conference Director, a peace and justice director.  Start where you find someone who has the same fire you do and work upwards.
Catholics are 1 in 6 Americans.  Efficiency can be a great doorway for those who don't want to talk about climate change yet and just want to save money.  It can help us weave the green thread and be an incremental step that meets people where they are.
Most priests have not been educated, in their theological training, on care for creation.  There is an unfamiliarity.  This is the new kid on the block and they are uncomfortable talking about it.
Catholics Twice as Likely to Agree with Pope Francis on Climate Change Than Disagree, But Many Still Unfamiliar with Views
White Catholics are twice as likely as Hispanic Catholics to say climate change is NOT happening. White Catholics are more than twice as likely as Hispanic Catholics to express doubts about the existence of climate change (34 percent vs. 15 percent).
Hispanic Catholics (61 percent) are much more likely than white Catholics (40 percent) to say that the earth is warming and this change is due to human activity.
(2) Hispanic Catholics are more likely to express concern over the severity of climate change. While similar numbers of Americans and Catholics overall agree on the severity of climate change, white Catholics express far less concern. Nearly three-quarters (73 percent) of Hispanic Catholics say that climate change constitutes a crisis or a major problem, while only 53 percent of white Catholics say the same.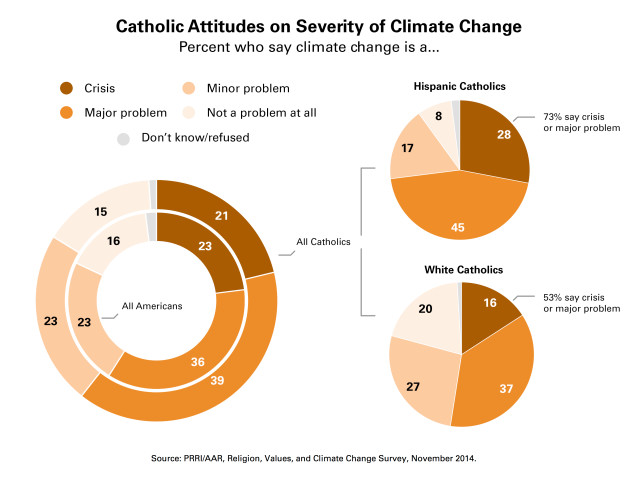 (3) Hispanic Catholics are about three times more likely to believe they'll be personally impacted by climate change. Forty-three percent of Hispanic Catholics believe they will personally experience the impacts of climate change, compared to only 13 percent of white Catholics.
Hispanic Catholics are twice as likely as their white counterparts to say that climate change will impact Americans a great deal—45 percent vs. 22 percent. Hispanic Catholics are also more likely to say that poorer developing countries will experience a great deal of harm (57 percent vs. 45 percent) as a result of increasing temperatures.
For more on how Americans think they'll be impacted, see our longer post on the issue.
(4) Hispanic Catholics are much more likely to hear about climate change in church. Seven in ten (70 percent) Hispanic Catholics report that their clergy leader speaks about the issue of climate change at least occasionally. In contrast, only one in five (20 percent) white Catholics report hearing about the issue of climate change in church this often. Overall, relatively few Americans report hearing about climate change in their place of worship.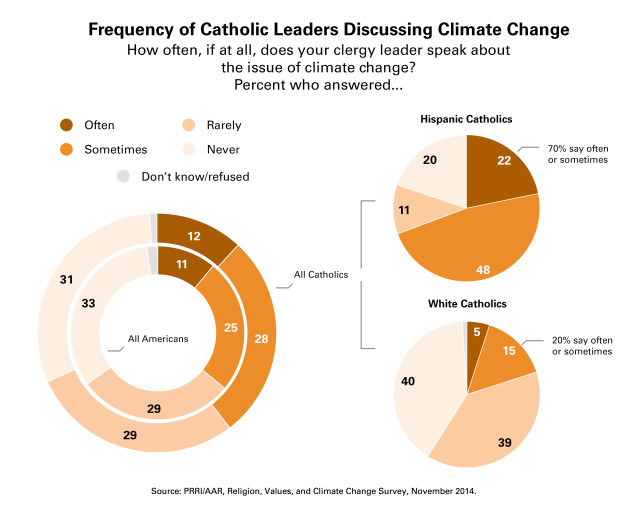 (5) Hispanic Catholics are far more likely to believe there is a scientific consensus about climate change. More than six in ten (61 percent) Hispanic Catholics say that scientists are in agreement about the causes of climate change—human activity. Only 39 percent of white Catholics believe that scientists agree humans are largely responsible for increasing temperatures on earth, while nearly as many (36 percent) say scientists are divided. In comparison, less than half (48 percent) of the American public believes that scientists generally agree that the earth is getting warmer due to human activity.
To learn more, including how Catholics' views compare to other religious groups, see our full report on the findings from the landmark PRRI/AAR Religion, Values, and Climate Change Survey.
Those interested in FCNL, connect with Emily, who is interested in where faith, ethics and policy intersect with environmental and social justice issues. [email protected]
A Better Natural Resources Legacy for Indian Country
The vast majority of the scientific community hasn't disagreed about climate change for decades. We know we're pumping more carbon, methane and other dangerous gases into the atmosphere at record levels, and we know we're trapping heat that will have serious impacts on our world for many years to come. Indian Country isn't going to be spared. We should talk about what's coming and plan ahead.
The truth is that islands are going to sink below sea level before the end of this century. Hurricanes are going to be stronger and more frequent all over the world. Unless we start mitigating the damage and reducing our emissions while there's still time, many people's lives are going to be much worse than they are now. Our food and water supplies will be threatened. Our homes will be at risk from larger storms, as we just saw in Oklahoma.
We're already seeing what happens long-term damage we face. The Pacific salmon is declining. Destructive pine bark beetles are killing millions of acres of forests in the West. Superstorm Sandy upended the lives of thousands of peoples and cost $65 billion. The number of severe weather events that inflict at least $1 billion in damage has gone from an average of two per year in the 1980s to more than ten per year since 2010.
As Indian Country Today Media Network noted not long ago, climate change is going to mean more flooding in the Pacific Northwest, more monster tornadoes in the Midwest, more tropical diseases in the South, more drought in the Southwest, stronger blizzards in the Northeast, less water for the Great Lakes, and more wildfires all over the country. None of this is a matter of debate. We know what's coming.
Tribal lands can be a big part of the response. Indian Country covers 2.4 billion acres nationwide and holds vast renewable energy potential – not just locally, but for the entire country. We should be aggressively incentivizing clean energy in every community big enough to hold a wind turbine or a solar collector. In March, the Internal Revenue Service ruled for the first time that a tribe that owns a renewable energy project can pass on federal tax credits to a lessee. This makes it easier for private entities to invest in Indian Country renewable energy efforts. We should make this ruling – currently limited to a particular case – a permanent part of the tax code.
We need to fund the excellent work of Tribal natural resource managers, many of whom have coped with starvation-level budgets for too long. After the Rodeo-Chediski fire burned for three weeks through central Arizona in 2002, the White Mountain Apache Tribe halted it in its tracks by trimming forests and undergrowth. Considering the chronic underfunding of Tribal forestry programs, this was a major achievement. We know more wildfires are on the way. Our best response is preparation, not after-the-fact disaster relief. Unless we're going to give up on our forests, we have to make sure Tribal and federal officials work more closely to plan management efforts and get the resources they need.
Just as importantly, we have to make sure young people understand the value of the natural world and what's at stake if we stay on our present course. The National Indian Youth Leadership Program, a proven and award-winning effort, has improved the lives of thousands of Native youth across the country for more than 30 years by providing culturally sensitive outdoor learning experiences. There are plenty of similar projects around the country, and we need even more of them if young people are going to understand the great American natural resources and treasures and how essential they are to their future.
Some of the most important mitigation, conservation, and emergency planning programs in our country are near collapse. We need to properly fund land and water conservation through the Farm Bill and other national legislation. We especially need to take advantage of Indian Country's great potential to create clean, sustainable jobs with the right incentives. The future of Indian country is the future of the United States, and if Tribes are struggling the country isn't where it needs to be. That's where we find ourselves right now.
We understand how difficult it can be to embrace the reversal of climate change as a cause. It feels like too big a process, too complicated a topic, and too removed from our daily lives. We're writing today exactly because it's such a big issue – for our families, for our communities, for Indian Country and for the nation. It's one on which we need everybody engaged. We hope you'll join us.
Rep. Raúl M. Grijalva has represented Southern Arizona in Congress since 2003. He is the former chairman of the House Subcommittee on National Parks, Forests, and Public Lands, and is currently the ranking member of the Subcommittee on Public Lands and Environmental Regulations. His district includes the Tohono O'odham Nation, the Pascua Yaqui Tribe, the Cocopah Indian Tribe and part of the Fort Yuma Quechan Tribe.
Jose Aguto is the Legislative Secretary on Sustainable Energy and Environment for the Friends Committee on National Legislation (FCNL), a Quaker lobby in the public interest. Prior to joining FCNL, he worked on energy, natural resources and climate change issues for the National Congress of American Indians.