Kids, Families, and Climate – How connected are our common concerns, our common home
They are humanity's hope for tomorrow, but each faces a future that looks increasing bleak and uncertain. Born in four different parts of the globe, these children came into the world in the weeks leading up to the Copenhagen climate conference in December 2009.  This piece returns to the story of families struggling to cope with the impact of climate change.
Now, before the Paris climate summit at the end of the month, we have returned to meet those children and show how they have lived with the consequences of the 2009 Copenhagen summit's failure to reach a deal to limit nations' outputs of greenhouse gases. Global warming has continued and droughts have spread. At the same time, sea levels are still rising and ice caps are shrinking while food is becoming increasingly scarce for many people.
The world is again at a crossroads. In Paris, our leaders will be asked to agree to another deal that could limit carbon emissions from factories and vehicles that burn fossil fuels. Each nation will be asked to put forward proposals to cut their output of carbon dioxide so that it will be possible to have an even chance of limiting global warming to a 2C increase over temperatures that were experienced in pre-industrial times.
If they succeed, then the hopes for the next generation – those whose lives are described in these reports, gathered by the Catholic charity Cafod – will receive a welcome boost.
If our leaders fail again, however, then the bleak lives outlined on these pages are destined to become even grimmer.
Denislania da Silva, Brazil
The baby girl born to Elisa da Silva just before the Copenhagen climate summit in 2009 had not yet been named when our first report was published. Today, six-year-old Denislania da Silva attends school, plays with her five brothers and sisters and hopes one day to become a teacher.
However, life among the indigenous Macuxi people is still hard – though there has been one recent cause for hope that the Macuxi will be able to survive in their threatened homelands around Barro, in north Roraima, close to the border with Venezuela.
In 2009, Brazil's supreme court ruled in favour of the Macuxi in their battle against farmers who wanted to turn the region's marshlands – where local men hunt and fish – into rice plantations. The indigenous land there should remain as a single, continuous territory, it was decreed, while unlawful land occupiers were also ordered to leave the region.
"The white people used to occupy our land and wouldn't let us fish or walk in the fields because everywhere was fenced off," Elisa recalls. "Today it is open to us."
The development is encouraging, though the Macuxi still face an uncertain future as the area is now being ravaged by the effects of climate change. "I have six children at home and worry a lot about not having enough food for them, especially when I wake up in the morning with nothing," she says. "I say, 'Oh dear God, I have nothing to give the children', but then someone invites me to work and then I can go and buy food and give it to them."
While Elisa works, her husband Denanson hunts and fishes with the other men of the community. Compared to the past, there have been many improvements, she adds.
But other developments are not nearly so welcome. Roraima borders the Amazon region of Brazil, one of the world's most environmentally sensitive regions. Almost 40% of the world's remaining tropical forests grow here – though the threat of deforestation, caused by rising temperatures and the spread of farming, remains a serious worry.
"The weather has changed a lot," says Elisa. "It is getting drier and there no longer seems to be a distinct winter or summer: the weather has become constantly dry. It isn't like before, when there was a rainy season and then a summer. The seasons have clearly changed. Today our water system is drying up and we have to struggle to maintain it.
"Our river used to be abundant but it's suddenly dried up. The fish that we used to catch have disappeared. Even when there is only rotten old fish, people will buy it. Our wildlife is also leaving – all because of the drought. I sometimes wonder if God is making us die from drought."
Olomaina Mutonka, Kenya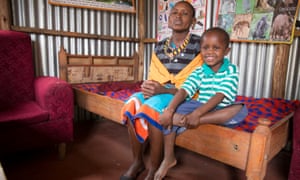 In 2009, the Mutonka family had just celebrated the birth of their son Olomaina. Then, they were fearful of the future: droughts were increasing in severity and their cattle were dying. Those fears have since been justified. Of the 284 cattle that they have owned over the past six years, they have lost 271. The area has had no rain in the last year and the family regularly goes to bed without eating. Olomaina's mother, Noomirisho Mutonka, now fears the worst.
"If the drought continues all our animals will die and we will be left with nothing. We will have no money to pay our children's school fees. This will lead to our children dropping out. Yet they are the future of this family. They are the ones we will rely on. If they get education, they will get employment and will become breadwinners. And they love school. They are very bright."
Noomirisho belongs to the Masai people and lives near the town of Kajiado, south of Nairobi. Droughts in this part of Kenya used to occur every three years but in the past few decades their frequency and duration have increased. More than 80% of the Masai in the Magadi area of south Kenya have lost cattle as a result of these increasing droughts.
By 2020 it is expected that more than 75 million people will suffer from water stress in east Africa as global warming takes its inexorable grip. The amount of land that can support the growing of crops will also be halved as a result, according to the Intergovernmental Panel on Climate Change.
"In the past, it rained from April to June and then again in December so our dams were never dry," says Noomirisho. "Nowadays, we can go two years without rain. During that time our animals become emaciated and die."
Noomirisho wakes around 5am to prepare breakfast for her children before she takes her cattle and goats to graze. She makes the six-hour round trip for water every second day, travelling with a donkey that carries 30 litres in two jerry cans. "On the day, I go to fetch water, I cannot go to graze the cattle because I travel for six hours to the water point and back. When I do take the animals to graze I often have to travel far because of the dry conditions."
The main source is an abandoned quarry that contains very salty water. "It is all we have now. The Olkejuado river dried up a long time ago and so we have nowhere else to fetch water from. That is what we have to drink."
Fretelina de Oliveira, Timor-Leste
Six years ago, Joana and Armando de Oliveira, who live in the village of Au-Hun on the north coast of Timor-Leste, were celebrating the birth of their daughter Fretelina. She was the couple's third child. Life was hard at the time but has only worsened as the climate has deteriorated, leaving the couple fearful for their offspring.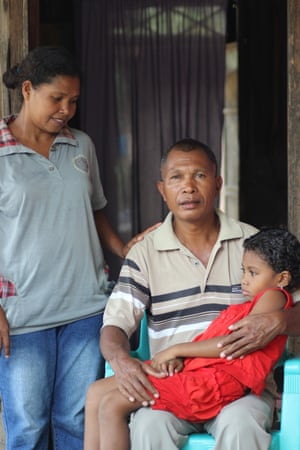 "My preoccupation is that now I am getting old, if I die, who will look after my children and sustain them?" says Armando.
In 2009, the island was afflicted by periodic droughts and wells sometimes ran dry. Maize production was badly hit on several occasions. Unfortunately conditions have hardened since then.
"The community here talks about climate change," says Armando, who work as a security guard at the nearby Technique School. "Six years ago the climate was better, normal and not as hot as it is now. It's so very hot and this heat is having an impact on our lives, particularly with my children who cannot get a good sleep."
The family depend on Joana's parents for shelter. "I started building my own house but I do not have enough money to continue," Armando says. "In reality, sometimes my family and I do not have breakfast or lunch, we just eat dinner."
In the dry season, life is bearable. However, things change in the rainy season, which lasts from November to May. "We are discontented because the roof leaks and water sinks in. The wall is made from woven fibre and if it rains we find it very difficult to find food."
The community around Au-Hun relies on subsistence with local people growing all their own food, managing livestock and securing water. This is not easy. Both water and electricity supplies are erratic, for a start. "And now the government is charging us for clean water and electricity and we are not able to pay," says Armando.
Poor yields affects a family's resistance to disease, cuts livelihoods and, in the end, reduces access to basic service such as education and healthcare. Of Armando's three children, only Fretelina now goes to school. "I hope my children will have a better future and go to school," he says.
According to climate scientists, temperatures are expected to rise between 0.88C and 3.68C by 2070. At the same time, rain patterns will be disrupted and droughts will be far more frequent. It is a grim forecast, though Armando remains hopeful that his community will ultimately prevail. "Life in my community involves helping others. Sometimes there is a conflict in family life but as in community problems between youngsters, we can resolve issues."
Maria Mallik, Bangladesh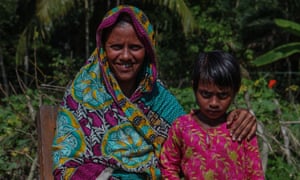 Tayab Mallik has been a rickshaw puller in Bangladesh for 30 years and the strain of this life is beginning to tell.
"I'm getting old and I am losing my strength," he says. "I have breathing problems. It troubles me in the summer mostly due to the rising temperatures. But being rickshaw puller you have to be very strong. If you are not strong enough, then you will fail to earn money."
Married with five daughters and a son, including Maria, who was born in 2009, Mallik's main fears are for his family. "I want them to be literate. I want to see them going to universities and doing well-paid jobs. I don't want them to pull rickshaws. But if something happens to me, who is going to feed them or pay their tuition fees? I know no one. Life is brutal."
Mallik earns £2 to £3 a day. "It's really hard to feed a family of seven with this income," he says. "I cannot remember when I bought meat for my family and I feel bad when I cannot buy fruit for my children. I know that they need it."
Tayab and his wife, Majeda Begum, live with the children in Mostortona in Bangladesh's Barguna district, which is suffering desperately from rising sea levels caused by global warming. High levels of salinity affect soil productivity, agriculture and vegetation. Drinking water is polluted. At the same time, the area has been devastated by increasingly vicious cyclones that bring tidal surges and destroy homes. More and more people are migrating to cities as land is lost to erosion.
In 2009, the situation was serious and it has only worsened over the years. "Everyone in our community now knows that climate change is now a big threat. Everyone is tired of speaking about it. We are poor so there is no way out.
"The river Pyra is about two miles from my home and due to climate change the water level is rising every year. You never know when you have to swim at night rather than sleep in your bed," Mallik says. "Increasing temperatures are another threat that cannot be denied. All in all, my life is full of threats. I don't know what is going to be next."
This stress is shared by his children, he believes. "I think it is hampering the natural flow of their lives and their education. At their age, I used to play all day long in the field. But my children are spending their time thinking about how to cope with a changing climate. This is not a proper childhood."