Philippines: Catholic action against coal. Also church groups, environmentalists, farmers and indigenous peoples' organizations discuss food and farming
For the first time since Pope Francis issued his game-changing encyclical Laudato Si, church groups, environmentalists, farmers and indigenous peoples' organizations discussed and analyzed the papal encyclical's significance specifically on the country's food and agriculture in Manila this month.
The groups view Laudato Si as the Pope's commentary on the real and unfortunate state of the natural environment – our common home. They agree with the Pope's call to re-examine  our  human relationship with one another, our drive for over-consumption and our relationship with the environment. They emphasize the need for a new, radical way of thinking and behaving. Going forward, the groups recommend for new ways of responsibly caring for nature to ensure our own survival, starting with a more ecological food and agriculture system.
"Technology has played a key role in reinforcing wealth concentration and societal inequity, as shown by the growing control of a few corporations over global food and agriculture.  The Pope is opposed to technologies that are profit-driven and industry-directed that may have direct or collateral damage for Mother Earth and her citizens", commented Silvia Ribeiro, Latin American Director of Erosion, Technology and Concentration (ETC) Group.
This detailed astronaut photograph released by the NASA Earth Observatory provides a rare cloud-free view of the northern end of Semirara Island, which is located approximately 280 kilometers to the south of Manila in the Philippines. The northern part of the island is dominated by the Panian Coalfield, the largest of three coalfields on the island. Most of the coal is used for energy generation in the Philippines, with some exported to India and other countries.  GPSEA The True Cost of Coal Volume 2 Report
In June, the Catholic church in the Philippines joined the One Million Against Coal Campaign, which aims to gather at least one million signatures nationwide in a bid to pressure the government to reverse the approval of dozens of coal power plants meant to address the country's energy security concerns.
"We are strongly opposing coal energy because of its negative effects on the health of the people and the environment. Coal plants are the primary cause of global warming," says Father Edwin Gariguez, executive director of Caritas Philippines National Secretariat for Social Action, the church's social action arm.
The petition was announced days before Pope Francis called on the world to phase out the use of fossil fuels in his powerful 180-page encyclical on the environment. Gariguez said "Leaders are paving the way for renewable energy use by installing solar panels at their parish church."
Although much of the church's effort has centred on opposing fossil fuels, it's taking a two-pronged approach to include clean energy use.  For instance, one project – a proposed 1,200-megawatt (MW) coal plant in Atimonan, 170km south of capital Manila – has met strong protests from locals, led by church leaders. These leaders are paving the way for renewable energy use by installing solar panels at their parish church.
"We're encouraging our communities to adopt renewable energy sources by setting an example. This has not been cascaded to all Catholic churches nationwide, but that's our hope. We'll include this as part of our best practices," Gariguez explains.
church officials have stirred protests against mining, particularly open-pit mining techniques and mining laws, which they claim give too many incentives to foreign companies. Gariguez says they want to turn fossil fuels and clean energy into a mainstream issue as they did mining.
The church has joined hands with environmentalists and activists such as non-government organisation Philippine Movement for Climate Justice (PMCJ) in this goal. PMCJ is working with the church on the signature drive against coal. It was also part of the campaign that called for Norway to divest its over $8 billion fossil fuel investments, some of which were channeled to the Philippines.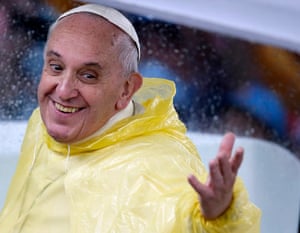 "Together with the faith community and affected sectors, we are taking into account what the Pope is calling for and what the climate needs: a radical shift away from dirty energy, specifically coal, towards renewable energy," PMCJ national coordinator Gerry Arances says. "The entry of the Catholic church in the climate scene is a much needed element to introduce the moral and ethical arguments into the climate debacle."
But Gariguez believes there's only so much they can do. He urges the government to do its part. "The church doesn't have the financial capacity. What we can do is advocate for government to support renewable energy. We've had dialogues with them. But we're tired. They're insensitive and they're not listening."
Church leaders are blaming the government for failing to lay the groundwork for renewable energy fast enough so it could plug the energy requirement gap without having to tap more coal. The government had announced 23 new coal power plants would go online by 2020.
The ETC Group is an international civil society organization that monitors new technologies. The group hails the encyclical for its stinging critique of inequality, greed, corporate control and profit-driven technologies that destroy the environment and threaten the seeds and practices of peasants such as sterile seeds or "Terminator technology". Ribiero, who hails from Uruguay, was part of a group of Latin American social movements that provided inputs to the Pope in the months leading to the drafting of Laudato Si.
"There really is urgent need for all of us to change our ways and put our "home" in order because of the environmental degradation everywhere- from air and water pollution due to increasing use of synthetic pesticides and fertilizers, to loss of biodiveristy, to an out-of-control climate," said Virginia Benosa-Llorin, Food and Ecological Agriculture Campaigner for Greenpeace Southeast Asia. "Our agriculture, which is vital to a healthy nation, has now been impacted by floods and droughts caused by human-induced climate change, in part driven by our unsustainable throw-away consumption patterns,"
The Philippines—once rice-sufficient, now a rice-importing nation—has wasted more than 12% of imported rice back in 2008. This means the average Filipino has wasted at least 2 tablespoons of cooked rice every day which could have been enough to feed 2.5 million Filipinos a year [1].
Religious groups hope that the public take inspiration from Laudato Si, while relevant government institutions and especially business stakeholders take on the Pope's challenge to change their views and practices- from mere dominion over earth's resources to being responsible stewards of these precious resources,with our fellowmen.
"The Pope is calling on the broad movement of individuals, communities and institutions to seriously recognize their unique roles as defenders of Creation," said Fr. John Leydon of the Columban Mission in Malate Catholic Church. "For those of us in the clergy, Laudato Si signals the Church's involvement in this movement like it was after Populorum Progressio [2] in the late 60s. Everyone should all come together to protect the environment to serve the needs of the poor and address the immoral inequality that is the worst ill of today's society, as the Pope said in his encyclical."
NOTES TO THE EDITOR:
[1] http://www.philrice.gov.ph/campaign/be-riceponsible/
[2]http://w2.vatican.va/content/paulvi/en/encyclicals/documents/hf_pvi_enc_26031967_populorum.html
For more information:
Elenita Daño
Action Group on Erosion, Technology and Concentration (ETC Group)
Email: [email protected] Mobile: 0917 532 9369
Virginia Benosa-Llorin
Greenpeace Food and Ecological Agriculture Campaigner
Email: [email protected]  Mobile: 0917-8228793
Philippine advocates plan to use 'Laudato Si" to energize their work
| | |
| --- | --- |
| BY SIMONE ORENDAIN, CATHOLIC NEWS SERVICE8/20/15 | |
MANILA, Philippines (CNS) – Philippine environmentalists and advocates for farmers, fishers and the poor praised lauded the recently released encyclical, "Laudato Si'," as "affirmation" for their causes and said that, using it as a guide, they were ready to get to work.
They kicked off a series of discussions in Manila Aug. 19 with indigenous peoples and others who are directly affected by climate change and the energy sector's impact on the environment. Organizers said this was the first time Philippine civil society groups were coming together to glean practical applications from the encyclical on caring for the earth by meeting the needs of the poor.
Raul Socrates Banzuela, secretary-general of PAKISAMA, a Philippine farming and fishing advocacy group that represents 33,000 members, said the pope's encyclical "affirms a lot of what we are doing." He said the organization for decades has been fighting for land rights, especially at mining sites, for its members who are on the lowest rungs of the country's economic ladder.
"It's an affirmation from a powerful ally, an ally who is being heard," Banzuela said during a news briefing before the roundtable talks. "Not only by 1 billion Catholics in the world — he's being heard by the United Nations, the World Bank, the president of the United States … and of course, (Pope Francis) will be heard by the most powerful institutions and individuals here in the Philippines."
Banzuela said in the past some of the biggest strides his group has made were helped by "the institutional church." However, he said a lot had to be done on the ground first before they got the church's attention. And with calling attention to their plight by citing the encyclical, Banzuela anticipated the group would have to work just as hard.
Columban Father Dan O'Malley said getting "Laudato Si'" translated into the Philippines' major languages such as Tagalog and Cebuano would be crucial to having the marginalized people's voices heard.
The priest from Our Lady of Remedies Parish in Manila pointed out that "small movements" should be supported by the church, such as advocacy work for rural folks and fishers who are "taking the brunt of the problem."
"This is a shared process, that farmers, the fishermen, the vulnerable, the squatters, they must participate in the solutions," said Father O'Malley. "They must grapple with the problem. They must see it as a problem. They must see that they have power in changing it."