What if scientists and faith leaders form a coalition on climate?
The Archdiocese of Boston hosted an extraordinary conversation on February 8-9, 2018, as leaders drawn from religious and scientific communities gathered to discuss the possibility of forging a partnership to push for decisive action on climate change.
The idea for gathering the group came from Phil Duffy, President of the Woods Hole Research Center, who, as Cardinal Sean O'Malley explains in a blog post, "[reached] out to the archdiocese through the good offices of Professor Mark Silk, director of the Greenberg Center for the Study of Religion in Public Life at Trinity College in Hartford."

Over the years, science and religion have had a complicated and sometimes hostile relationship. As our convener Professor Mark Silk observed, religion and science have distinct approaches to reality. Although scientists sometimes serve as advisers and consultants to religious leaders, and although scientists may turn to religion for inspiration, to form a coalition of religious leaders and scientists "would be something new under the sun."
Such a partnership has enormous potential in this perilous time. In fact, such a partnership may be not just desirable, but even essential. Given the massive disruption of our global climate that is now underway, we need to hear from scientists, who have made it abundantly clear that continuing to burn fossil fuels will lead in a very short time to climate catastrophe. And we also need to hear from spiritual and religious leaders, who can give us the inspiration, motivation, and moral courage to change course and to create a more just and life-sustaining society.
Phil Duffy contended in his opening remarks that when it comes to addressing climate change, in many ways we already have what we need. "We can do the science," he said. "We know more than enough to take strong action. We have most of the solutions we need, and we know how to design policies to apply those solutions." The problem, he said, is that we're just not doing it. We're not taking the actions we need to take. "We need to summon the political will." The only way to do so, he said, is to bring together head and heart. He cited retired Congressman Bob Inglis, a conservative Republican from South Carolina, who wrote, "Climate science can fill our heads, but it can't change our hearts. Only grace can do that. People of faith are therefore essential if we are to rise to the protection of our common home."
Professor Silk put it like this: "If a coalition of scientists and faith leaders can't communicate what is necessary to do, no one can. If no one can communicate what is necessary, no one can do what is necessary."
Professor Robert DeConto of University of Massachusetts, Amherst, gave a brief, stark presentation of his research on the Antarctica ice sheet, noting that business as usual would result in a one meter global rise in sea levels by 2100 that would affect 152 million people worldwide – just from the melting of Antarctica's ice. Lest those numbers sound abstract, he brought his message home with a slide depicting how much of Boston would be underwater.
I was invited to speak about the current state of religious climate action in Massachusetts, and my remarks are posted below. Some of the other faith-based speakers included the Rev. Mariama White-Hammond of Bethel AME Church, who, in a talk entitled "The Cry of the Poor," spoke eloquently about climate justice, urging us to grapple with the contradiction that the people most harmed by climate change are not the people who make policy decisions.
The Rev. Dr. Jim Antal, whose new book Climate Church, Climate World is about to be released, pressed the religious leaders in the room to recognize that witnessing for God's Creation is the vocation of the church, the synagogue, the mosque and the temple. "What if taking action on climate were to become as defining a quality of what it means to be religious, as prayer? What if religious leaders in Massachusetts gave at least as much attention to collective salvation as they currently give to personal salvation? What if every person of faith understood that 'To be a person of faith, I have to speak up for Creation?'"
Discussion was lively. We shared insights, ideas, and hopes. To cite just a couple of comments, Bill Moomaw, Professor Emeritus of International Environmental Policy at the Fletcher School, Tufts University, reminded us that in November 2017, world scientists released a warning to humanity about the daunting environmental challenges that we face and the urgent need to work together as a human race to create a sustainable and livable future. It is, in fact, a second notice, coming 25 years after a manifesto published in 1992. (See also: "16,000 scientists sign dire warning to humanity over health of planet")
The Rev. Fred Small, Minister for Climate Justice at Arlington Street Church, Boston, stood up to say, "This is a historic gathering. If it isn't a historic gathering, we will have failed." He urged us to take to heart Pope Francis' admonition in Laudato Si that we must become politically engaged and strategic. To quote the Pope's encyclical: "Unless citizens control political power – national, regional and municipal – it will not be possible to control damage to the environment." (179).
Rev. Fred went on to say, "My prayer and my entreaty to the Archdiocese is to bring the same passion and priority to climate justice as to any pro-life effort heretofore — because there is nothing more pro-life than protecting and preserving Creation, the environment on which all human life depends." If we don't do this, he added, the cost would be enormous in fire, famine, flood, and refugees.
Looking back on these intensive two days of discussion and our plans for next steps, I live in hope that something new is indeed being born right here in Massachusetts as people of science and people of faith come together to unite head and heart and to work together to protect our common home.
My thoughts are expressed in the words of the prophet Isaiah, who heard God saying,
"I am about to do a new thing;
now it springs forth, do you not perceive it?
I will make a way in the wilderness
and rivers in the desert." (Isaiah 43:16)
---
Here is my presentation to the gathering of scientists and faith leaders at the Archdiocese of Boston on February 8, 2018
                               The Current State of Religious Climate Action in Massachusetts
I am blessed to be here. Thank you, Cardinal O'Malley, for convening us. To you and to everyone here I bring greetings from Bishop Doug Fisher of the Episcopal Diocese of Western Massachusetts, whom I am representing.
I've been asked to speak briefly about the current state of religious climate action in Massachusetts, and I'll start with a word about myself. I was ordained in June 1988, the same month that NASA climate scientist James Hanson testified to the US Senate that scientists were increasingly concerned about the effects of burning fossil fuel and what at that point they were calling "the greenhouse effect." Concern about climate change was placed on my heart at the very beginning of my ordained ministry, at its root, and in the years since then, I have tried to understand our spiritual and moral responsibility as human beings – as religious leaders – in a time of such great peril.
In 2014 I finally left parish ministry to give the climate crisis my full attention. I now serve as Missioner for Creation Care in the Episcopal Diocese of Western Mass., and in the United Church of Christ across Massachusetts. To me this unusual ecumenical position is a sign of how the climate crisis impels us to come together across faith traditions to organize and mobilize.
Just from looking around, I can say that the interfaith climate justice movement in Mass. is alive and well. With people in this room (and beyond) I've preached about climate change and led workshops for clergy on how to preach about climate. With people in this room I've led retreats and written pastoral letters and ecumenical statements. With people in this room I've pushed for divestment from fossil fuels, lobbied for carbon pricing, marched for climate justice, held prayer vigils, and been arrested for acts of non-violent civil disobedience to keep fossil fuels in the ground.
I am heartened by what I see as an upsurge in awareness and concern here in the Commonwealth among people of faith and good will, and a growing desire to connect the cry of the Earth and the cry of the poor. I am thrilled that The Poor People's Campaign is taking shape and linking justice of every kind – social, racial, economic and ecological. Meanwhile, I want you to know that a group of people of many faiths is organizing a climate witness that will take place in Boston on Monday in Holy Week, March 26, a few days before Passover. We're calling it Exodus from Fossil Fuel. We will hold an interfaith ceremony at the State House, appeal to the Governor to stop the expansion of fossil fuel infrastructure, and then march in procession to the Back Bay, where a new pipeline project is slated to power luxury high-rises with fracked gas. There we plan to witness to our vision of a beloved community, and to our intention to build a just and livable future for our planet and all its inhabitants. I expect that young people will join us, because I know they are looking for moral leadership on climate. I invite you to join us, too.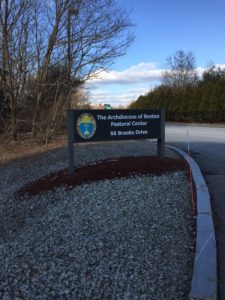 The movement is growing, but what we're missing is an effective, strategic, and well-organized network that mobilizes faith communities from top to bottom, rouses the general public, and becomes an unstoppable force on the political scene. Some of us recently tried and failed to create such a network. Massachusetts Interfaith Coalition for Climate Action (or MAICCA, for short) came into being in 2015, inspired by the release of Laudato Si. It had a good two-year run. MAICCA did many wonderful things, such as making it easy for congregations to become politically engaged, organizing legislative action days at the State House, setting up waves of meetings with local legislators, and taking a leadership role in the huge climate march and rally that was held in Boston in December 2015. But MAICCA ran into trouble – for one thing, we never worked out our organization or a sustainable strategy.
The time is ripe for a new initiative.
I hope for three things:
1) I hope that top leaders of faith communities will make it crystal clear that addressing the climate crisis is central to our moral and spiritual concern. It's not one of 26 different causes that we care about, but a cause that affects everything we cherish. I hope that top faith leaders will convey to their congregations that if you care about the poor, you care about climate; if you care about immigration and refugees, you care about climate; if you care about public health, you care about climate; if you care about human rights, you care about climate; if you care about loving God and your neighbor, you care about climate. The climate is not an issue for a special interest group. If you like to breathe, if you like to eat, if you'd like to leave your children a world they can live in, you care about climate.
2) I hope that faith communities will get organized within our selves and across traditions so that we become scientifically informed, spiritually grounded, and politically effective, enabling us to speak with one voice about the sacredness of God's Creation and the moral imperative to protect it.
3) I hope that faith communities will draw from our deep spiritual wisdom as we confront the climate crisis. We know that the massive West Antarctica ice shelves are collapsing and sliding into the sea in a process that some scientists call "unstoppable." Yet we also know that the love of God is unstoppable. With that love in our hearts and in our midst, who knows what we will be able to accomplish?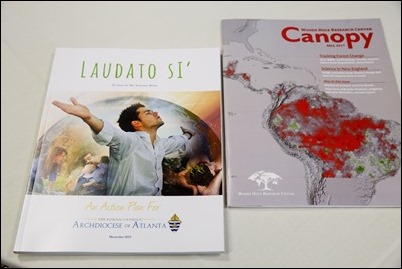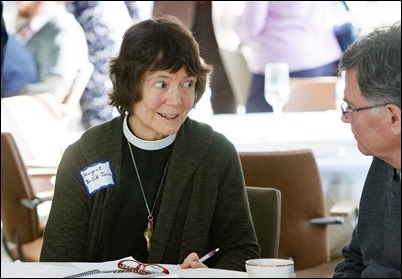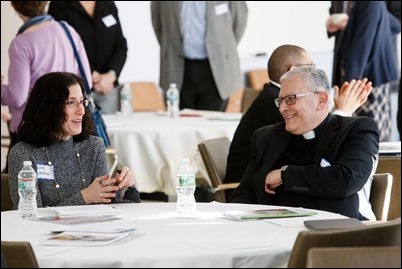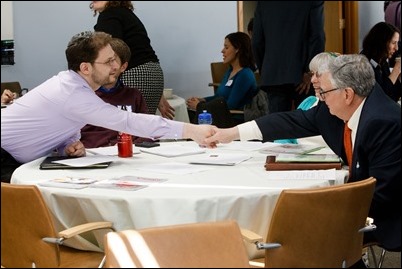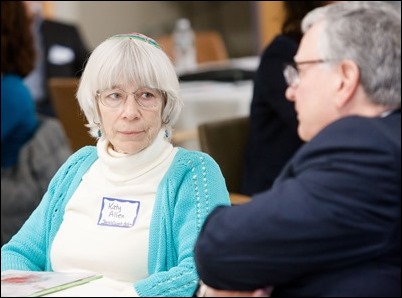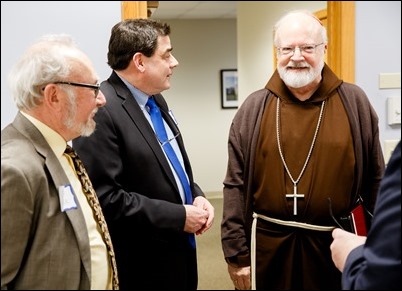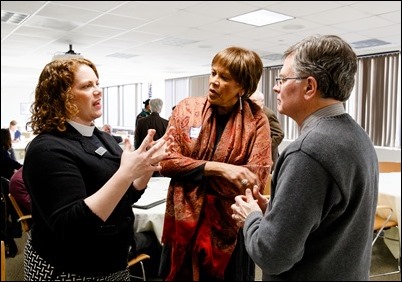 As we approach the third anniversary of the publication of Laudato Si', the Holy Father's encyclical on "protecting our common home and the dignity of the poor," we wanted to explore the potential of forming a coalition of leaders drawn from the religious and scientific communities in Massachusetts to advance those concepts.
The idea for bringing this group together came from Phil Duffy, the CEO of the Woods Hole Research Center, reaching out to the archdiocese through the good offices of Professor Mark Silk, director of the Greenberg Center for the Study of Religion in Public Life at Trinity College in Hartford.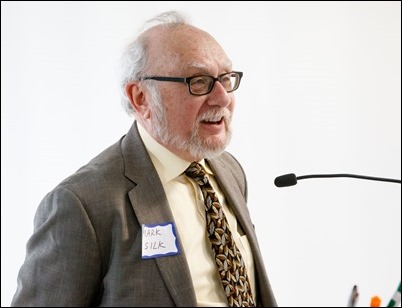 This first gathering provided an opportunity to share experiences, ideas and hopes for what we can do as faith communities and the world of science to make our voices heard.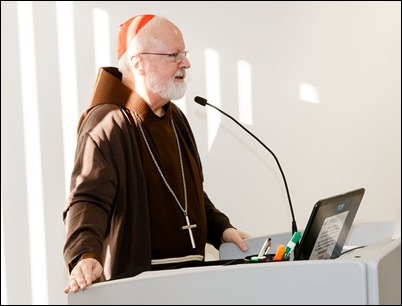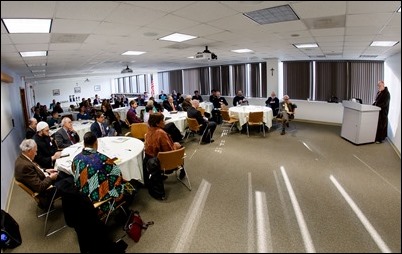 While there have been scientific advisers to religious organizations, and scientists who seek religious inspiration, this would be a unique coalition with the goal of bringing the combined intellectual and moral authority of both groups to the task of caring for our planet.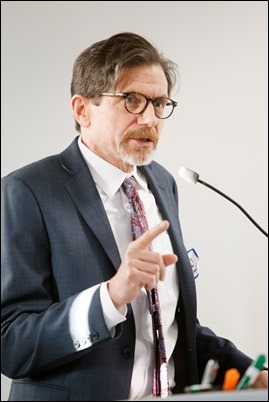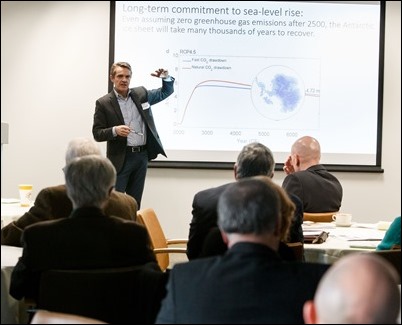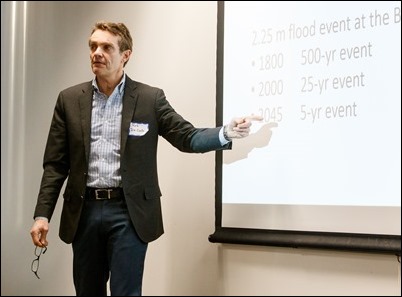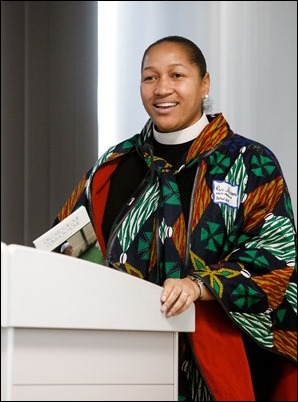 We anticipate that the coalition will seek to continue the conversation and to explore ways we can better pursue public policy proposals related to environmental issues at the state level. We also believe that the coalition can engage in both public education and in partnership with our schools.
There is no doubt that it will take the insights of all of our religious traditions to complement the work of scientists as well as political, economic and cultural leaders to meet the challenge of our day. There are many ways to examine and explain that challenge. We need the hard science to convince, persuade and engage parts of our society that this challenge is so real and so compelling. We also need the insight of religious traditions to provide both understanding and motivation to the public.
Until next week,
Cardinal Seán